New Zealand's target to address climate change is covered by our National Determined Contribution (NDC) under the Paris Climate Agreement. New Zealand's NDC target is to reduce greenhouse gas emissions by 30 per cent below 2005 levels by 2030.
The Carbon sequestered in trees is a primary carbon reduction vehicle in meeting our Nationally Determined Contribution.
Planting carbon forest/s is an essential part of actively contributing towards climate change mitigation. In doing so there are factors that must be considered, such as:
Location – Is carbon forest/s the best use of this land?
Sustainability – What are long-term implications nationally and locally?
Ownership – Is this the best decision for the future of the land or forest owner?
NZ Carbon Farming is 100% New Zealand owned and targets marginal land for planting. 95% of the land purchased by the business is classified marginal or less productive land, well suited to permanent forestry[1]. The company actively seeks to sell any higher quality land back to the local community so that it can continue to be farmed.
NZ Carbon Farming does not harvest the forests they own. However, where practical, selected by-products from the organisation's forest management programme will be used for a range of sustainable economic applications, such as the development of bio-fuels or in bio-chemistry.
Below we analyse some of the national numbers and facts related to the New Zealand forestry sector. This knowledge is valuable when considering our country's carbon reduction strategy and also provides insight into how the forestry sector has evolved and what is required to reach vital climate change goals.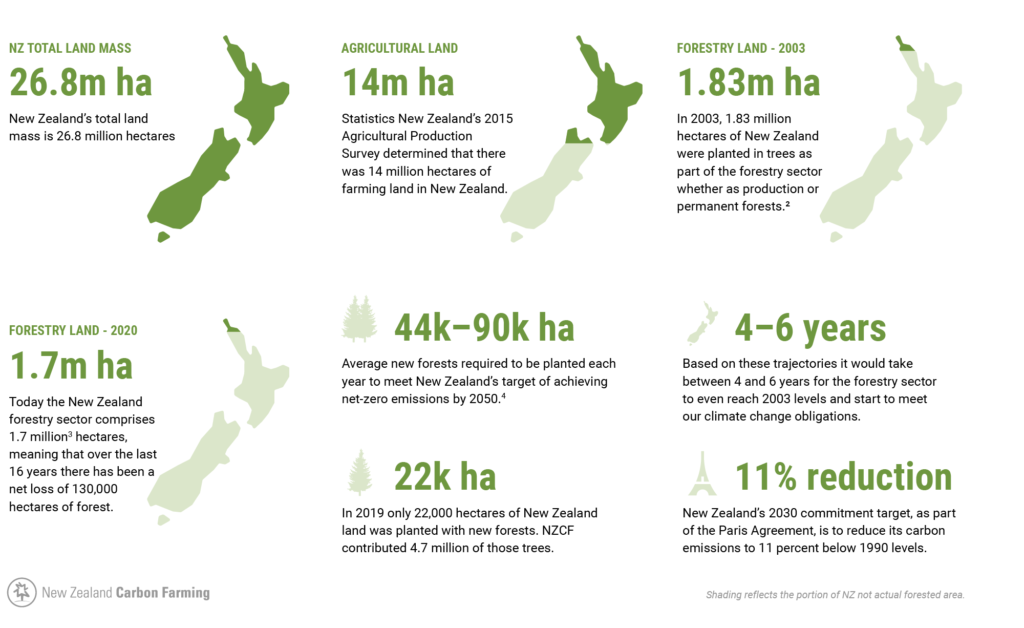 With these numbers in hand, it's clear that work remains to be done. There are many established programmes and initiatives contributing to reaching these targets.
Developing the effectiveness of recycling & waste management, stimulating the uptake of technologies such as solar power and electric vehicles, social behaviour changes and tree planting initiatives all have a positive impact.
What remains true is that well-managed and carefully considered afforestation is the most effective of these approaches and will deliver long-term value for future generations of kiwis as we work to manage the reduction of global greenhouse gas emissions and limit the rise of global temperatures.
If you are a landowner or forest owner and want to understand how you can benefit from Carbon Forestry – contact New Zealand Carbon Farming and learn how you can make a difference to your future and actively contribute to climate change mitigation.
[1] NZ Land Use Capability Classification (LUC) Grades 6-8
[2] 1 April 2003         1,827,000                2018 National Exotic Forest Description
[3] 1 April 2019         1,696,584                2019 National Exotic Forest Description